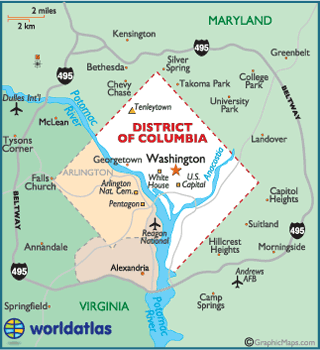 via WorldAtlas.com
As the New Year rolls in, so do the extensive provisions of the new District of Columbia Nonprofit Corporation Act 2010 (the "Act", D.C. Code
§29-401.01
), effective January 1, 2012. The law in this area has been rarely touched since 1962 and January 1, 2012 represents a significant turning point for nonprofit corporations in the District of Columbia with regards to how they will organize themselves in the future. Below, some of the most interesting elements of the Act are discussed. It can be argued that many of these provisions strengthen the transparency of DC nonprofit organizations and increase accountability and public confidence.
Directors and officers
A number of the provisions in the Act apply to directors and the standards and expectations of their personal duties. The duty of good faith, care and loyalty has been codified for all directors and officers and provides useful detail of fiduciary duties (
§29-406.30
). In a similar vein, the Act also lays out clear guidance on indemnification from personal liability to protect directors and contains provisions on insurance to directors and officers and advancement of expenses, amongst other points (
§26-406.11
). This new guidance will be a useful mechanism with which to review and update current organizational documents and policies to reflect the new legal requirements. The Act provides for a maximum board term of 5 years, although reelection is permitted for additional terms (
§29-406.05
). Considered together, these provisions provide clearer guidance relating to the boundaries of nonprofit directors and officers of DC nonprofit corporations.
Recordkeeping
The new Act details a number of required procedures regarding records and housekeeping issues including lists of key documents to be stored at the organization's principal office (
§29-413.01
) and inspection rights of these documents for
directors and members (
§29-413.02
), emphasizing a theme of transparency and accountability. Similarly, financial statements must be made available to its members if requested, unless otherwise stated in an organization's articles or bylaws (
§29-413.20
).
Amendments to Articles and Bylaws
If the nonprofit has members they can approve substantive changes to articles and bylaws (if not restricted in bylaws), encouraging directors and officers to be more interactive with the organization, again moving away from boardroom politics (
§29-408.20
). This will arguably help member organizations to be more front-facing and transparent with their members.
Members
Conversely, however, the definition of a 'member' has been defined under the new Act to include only those with voting rights with respect to director elections and specific major transactions (
§29-410.02
). Membership nonprofits can avoid the potential pitfalls of this provision by expressly referring to the right nonvoting members can have. It could be stated that this provision forces organizations to reflect and review the structure of voting rights within their organization, and clarify this transparently through express provision contained in their Bylaws and Articles.
Above covers only a handful of the new provisions coming into effect in the District of Columbia for nonprofit corporations on January 1. Reviewing key organizational documents and policies is strongly recommended to ensure there are no nasty surprises in the form of noncompliance in the face of this new far-reaching legislation.